About Carol
Italian by Origin. Italian & Original.
In 1927, Carol Sicbaldi's grandfather, a man named Pietro Sicbaldi, was born in a tiny village called Villaromagnano (AL) in Piedmont, Italy. One of seventeen siblings, he immigrated to America with his cousin. The Land of Golden Dreams and Opportunity.
They worked the fields for years until Pietro saved up enough money to buy a large piece of property and start a fruit tree farm. This is what he knew best. Little did he know that this was the beginning of a family business that would thrive on through three generations.
Pietro met Cesarina, in the mid 1920s at a social club dance for immigrants. They fell in love, married and had three children–all of whom worked on the family tree farm.
Today, Carol's eldest brother Michael continues to carry the farm forward, managing a garden center and floral shop.
Carol is one of 14 grandchildren. Her insatiable curiosity for travel and discovering the world and languages – brought her around the world and eventually to Italy to perfect the language and to meet Pietro's remaining relatives; her first, second and third cousins. Her first casa away from casa remains in that very same village, Villaromagnano, where Nonno Pietro was born.
Carol's combined love of sport, food, wine and Italy brought her to Italy leading walking and bicycle tours up and down the peninsula from 1993-2000, when she moved permanently to Italy. For almost two decades now, Carol has created, designed, and guided active foodie trips working closely with a range of professional Italian chefs, wine producers, farmers, sommeliers and other industry experts.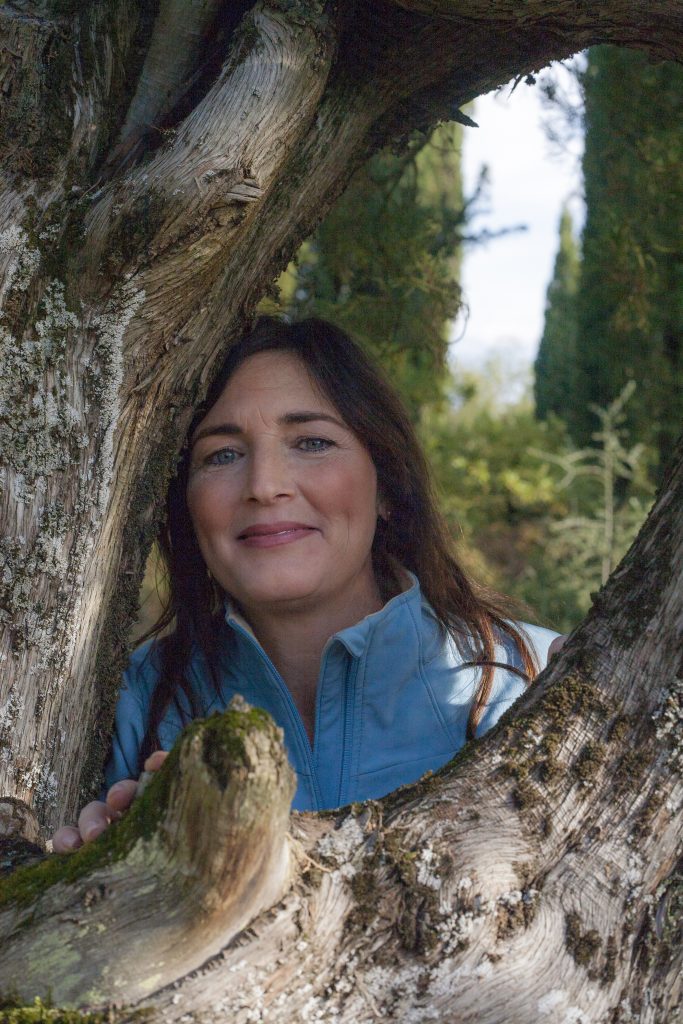 "Carol has a way of creating one of a kind experiences which allowed us to immerse ourselves in the region. I recall not feeling so much like a tourist but more like a thread of the tapestry of the region. Carol created the experience and allowed each of us to draw from it in our own way." -Sherry T. North Raleigh, NC
Her love for Italy, now her home for almost 18 years, is a life passion. She lives, eats and breathes all things Italian and delights in sharing the most obscure, unknown, delightful, whimsical, delicious and unexpected aspects –and especially the beautiful people–of her beloved country, Italia.
MOVEABLE FEAST
WALK OR CYCLE. FEAST. REPEAT.
LOOKING FOR AN ACTIVE, ITALIAN FOODIE EXPERIENCE BUT NOT SURE HOW OR WHERE TO GO? SEVERAL DAYS IN A SPECIFIC REGION OR A WEEK LONG VACATION COMBINING DESTINATIONS?
WE DO IT ALL.
Carol's Moveable Feast is a unique collection of active and/or food and wine experiences primarily in Italy curated by Carol Sicbaldi. With more than 20 years work experience in active-adventure foodie travel, creating eno-gastronomic (wine-food) experiences and/or food and wine seminars, Carol's expertise speaks for itself with each and every genuinely orchestrated one-of-a-kind one day or multi-day trip she designs.
Carol is the magical curator and orchestra conductor waving her wand to bring together incredible food experiences, tastings, cooking lessons, demos & techniques, expert wine knowledge, phenomenal table settings, amazing (hot and cold) artful "pop-up" picnics in the woods or meals in vineyards, music.
Top this all off with total union of presentation and place.
With the most exclusive relationships in the industry (after years of creating and leading trips for food industry professionals+active travelers), Carol has created an absolutely unique roster of
"foodie" experiences unlike anything out there. There is no comparison. This is not a feast for all but rather for those lucky enough to attend. An insider sharing the secrets to a delicious life fulfilled.
VIP ALL AROUND.
WONDERING WHO MAKES THE BEST GELATO IN THE TINIEST, MOST OBSCURE VILLAGE IN THE APENNINES? SHE'LL FIND OUT.
INTERESTED IN LEARNING THE INS AND OUTS OF RAISING THE COVETED BLACK PIGS OF PARMA? SHE'LL TAKE YOU THERE, AND DRIVE YOU AROUND IN A GOLF CART TO VISIT THE PIGS.
SHALL WE PICK THE FRESHEST INGREDIENTS POSSIBLE FROM AN ORGANIC GARDEN AND COOK THEM UP WHILE SIPPING CHIANTI CLASSICO?
HOW ABOUT A WALK WITH ANTONIO THE TRUFFLE HUNTER AND HIS TRUFFLE DOG PINA?
A GORGEOUS WALK TO A TRADITIONAL TUSCAN BASKET WEAVERS' HOME WHERE YOU SPEND THE AFTERNOON EATING FRESH TUSCAN FOOD AND LEARNING ABOUT THIS BEAUTIFUL, SLOWING-DISAPPEARING ARTISAN CRAFT?
HOW ABOUT A COMPREHENSIVE OLIVE OIL TASTING WHEREBY SHE TEACHES YOU HOW TO COMPARE OILS FROM SICILY, UMBRIA, LIGURIA AND TUSCANY?
DOESN'T EVERYONE WANT TO MEET THOSE RARE, SMALL WINE PRODUCERS WHO HAVE A GREAT STORY TO SHARE AS WE SAMPLE FROM THE BARREL?

A VISIT WITH A TUSCAN TEA GROWER?
These are just some of Carol's favorite places to share and stories to tell.
A Moveable Feast is about moving, in nature, or within a place or territory while enjoying the feast at hand; a celebration of food, wine and, of course, the lovely, passionate Italian people behind it all.
Contact us here to create your own, private, unique itinerary.
GUIDED TOURS
CURATED, LOCAL, INSIDER EXPERIENCES.
Carol's Moveable Feast offers a range of active foodie trips which are fully supported and are accompanied by Carol and/or one of her amazing expert guide staff.
Most of our guided tours are bespoke—tailored to your likes and interests.
Accommodations, most meals, guide services, visits, van support (where needed), luggage transfers and entrance fees are included.
CELEBRATING ITALY
Level: Easy/Active Foodie
This trip is ideal for yoga groups, runners and walkers alike or friends traveling together. It is based from a villa property with a large, comfortable space to practice yoga. The itinerary provides a unique, inside opportunity to explore a less traveled and lesser known, spectacular corners of Tuscany: by foot, driving a Fiat 500m, in nature, with daily yoga practice, exploration and experiences focused on food, culture, Tuscan life (meeting and spending time with Tuscans).
We are local and we share an authentic experience of daily life.
Departures: late March and mid-October.
LINK TO ITINERARY OR (Download PDF)
"I would like to thank Carol for her care and attention to detail in creating a life-altering experience; for her enthusiasm, professionalism, trusted supplier relationships, and for the knowledge of our superior products she shared so freely and greatly." -Sherry T., Whole Foods Market.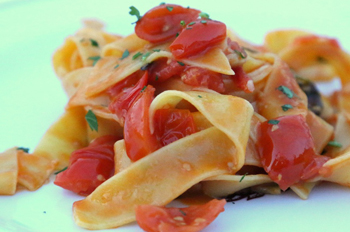 As a young girl, I remember watching my Italian nonna Cesarina make pasta almost daily, pounding dough balls by hand and forming them into the most delicious meals. Occasionally, my siblings and cousins and I would lend a hand trying to work the same magic.
In Italy, it's more common than not to see people throw together fresh pasta (yes, even without the pasta machine), cut it, toss it in the boiling water and voilà! Why? Because there's nothing like the taste, texture, and satisfaction of a delicate pasta just rolled by hand. And making it is more simple than you think: just three basic ingredients!
I consulted my friend and chef Francesca Lari on how the real deal is done. Below you'll find all the ingredients and tools you'll need to unleash your inner Top Chef, along with a helpful step-by-step infographic for how to make the pasta.
Get ready, set, cucinare!
COOKING TIME
45 minutes (pasta) prep time
1 hour "resting" time
2-3 minutes cooking (5 – 6 min if the pasta was left to dry for min. 1 hour)
INGREDIENTS
Use 1 egg and ⅔ cup of flour (or semolina) for each serving you plan to make. Be sure to have extra eggs and flour on hand just in case. Choose your favorite kind of flour: white, semolina, whole wheat, or spelt.
Francesca's Tip: When making pasta, always work with at least 2 eggs at a time.
TOOLS
A pastry board or untreated wood table
A rolling pin (wood is best)
Knife with tall and long blade
Dishcloths or towels
Pasta drying rack (or a place to let the pasta lie flat to dry)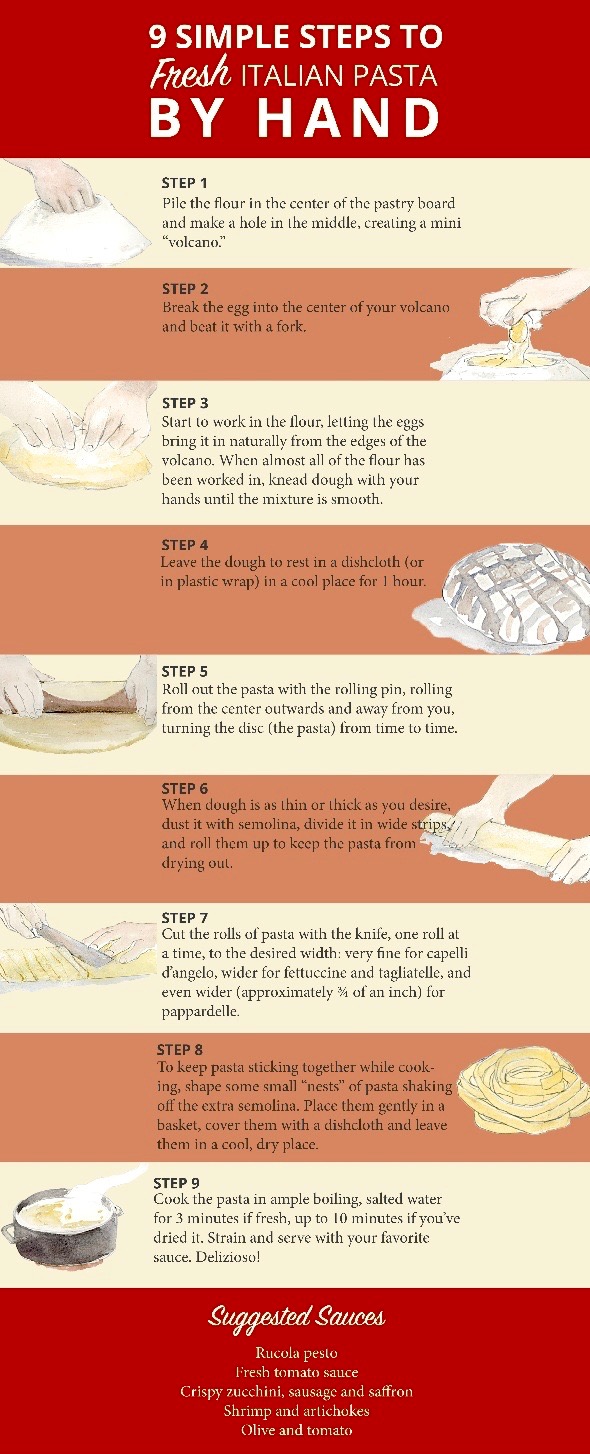 Italian chef Francesca Lari was born in a place in between Chianti's vineyards and the pastures of Val di Chiana. Her paternal grandparents were winemakers; her maternal grandparents raised livestock and were butchers and salami producers. It was only natural that Francesca grew up absorbing the rich food traditions of her land with all the genuine and honest flavors and aromas. Today, she relentlessly seeks out new flavors to enhance her recipes and loves to experiment by creating new dishes.
Artist Bill Koeb is an American painter, illustrator, and sequential artist whose work includes illustrations for Washington City Paper, The Village Voice, and Bill Graham Presents. He has illustrated stories for Marvel, Vertigo, and other publishers. He has written and drawn stories for Vanguard Publishing's Tales From The Edge anthology and created the artwork for the character Sarah in the film The Crow, City Of Angels. He is currently painting and teaching in North Carolina. These illustrations were made with ink and wash.
Author: Carol Sicbaldi
ITALY+PLUS
CROSSING BORDERS.
CONTACT US FOR MORE DETAILS ON CAROL'S MOVEABLE FEASTS–ABOVE AND BEYOND ITALY (AND SOMETIMES INCLUDING ITALY!).
CRUISING CROATIA
PROVENCE & TUSCANY
MACEDONIAN TRAILS
CELEBRATING GEORGIA
WINTER YOGA IN SWEDEN