As a young girl, I remember watching my Italian nonna Cesarina make pasta almost daily, pounding dough balls by hand and forming them into the most delicious meals. Occasionally, my siblings and cousins and I would lend a hand trying to work the same magic.
In Italy, it's more common than not to see people throw together fresh pasta (yes, even without the pasta machine), cut it, toss it in the boiling water and voilà! Why? Because there's nothing like the taste, texture, and satisfaction of a delicate pasta just rolled by hand. And making it is more simple than you think: just three basic ingredients!
I consulted my friend and chef Francesca Lari on how the real deal is done. Below you'll find all the ingredients and tools you'll need to unleash your inner Top Chef, along with a helpful step-by-step infographic for how to make the pasta.
Get ready, set, cucinare!
COOKING TIME
45 minutes (pasta) prep time
1 hour "resting" time
2-3 minutes cooking (5 – 6 min if the pasta was left to dry for min. 1 hour)
INGREDIENTS
Use 1 egg and ⅔ cup of flour (or semolina) for each serving you plan to make. Be sure to have extra eggs and flour on hand just in case. Choose your favorite kind of flour: white, semolina, whole wheat, or spelt.
Francesca's Tip: When making pasta, always work with at least 2 eggs at a time.
TOOLS
A pastry board or untreated wood table
A rolling pin (wood is best)
Knife with tall and long blade
Dishcloths or towels
Pasta drying rack (or a place to let the pasta lie flat to dry)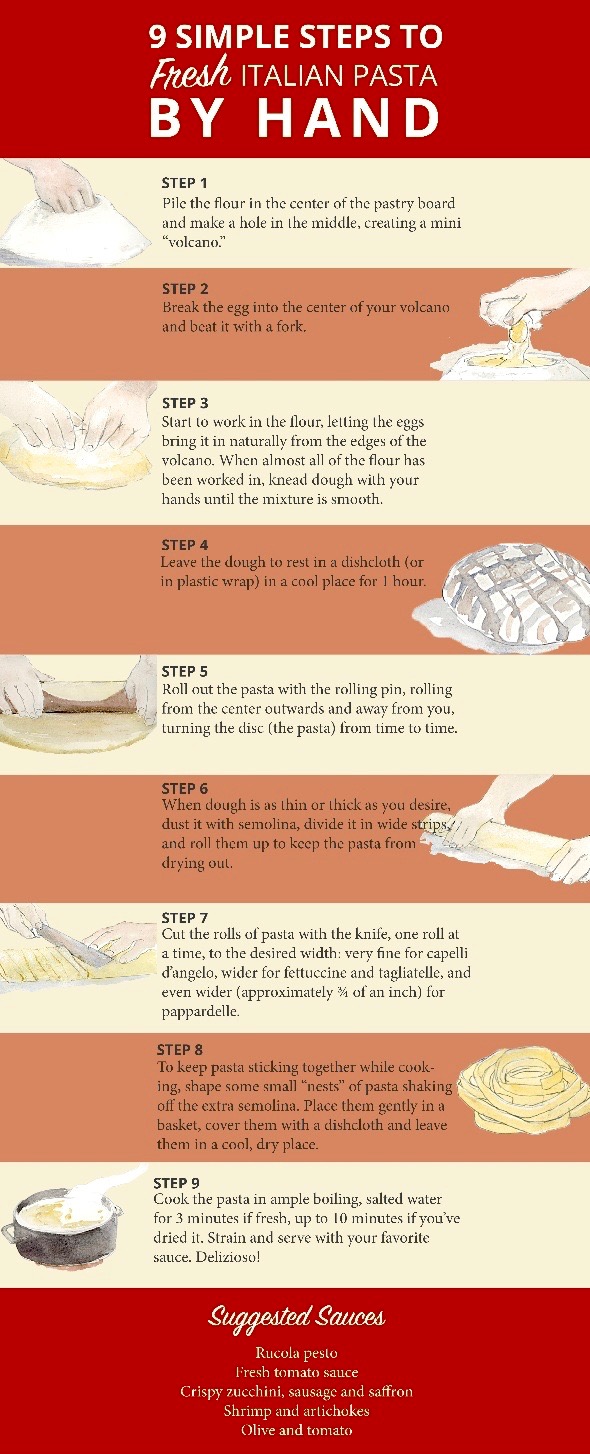 Italian chef Francesca Lari was born in a place in between Chianti's vineyards and the pastures of Val di Chiana. Her paternal grandparents were winemakers; her maternal grandparents raised livestock and were butchers and salami producers. It was only natural that Francesca grew up absorbing the rich food traditions of her land with all the genuine and honest flavors and aromas. Today, she relentlessly seeks out new flavors to enhance her recipes and loves to experiment by creating new dishes.
Artist Bill Koeb is an American painter, illustrator, and sequential artist whose work includes illustrations for Washington City Paper, The Village Voice, and Bill Graham Presents. He has illustrated stories for Marvel, Vertigo, and other publishers. He has written and drawn stories for Vanguard Publishing's Tales From The Edge anthology and created the artwork for the character Sarah in the film The Crow, City Of Angels. He is currently painting and teaching in North Carolina. These illustrations were made with ink and wash.
Author: Carol Sicbaldi